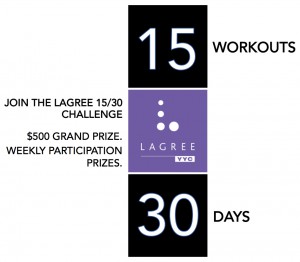 Give your New Year's resolutions the Workout you deserve!
Lagree YYC is helping Calgarians to kick-start their New Year's resolutions with an exciting 15/30 Day Challenge between January 8 and February 6.
Participants who complete 15 Lagree workouts within 30 days will improve their cardio, strength and endurance while vying for some great weekly prizes along the way. Everyone who completes the challenge will be entered for a chance to win the grand prize, a $500 gift card at Holt Renfrew.
Prizes from Browns Social House, Bronze Baxx Tanning, California Tan, Impact Magazine, lululemon, Shashi, S'well, toesox, Urban Venus and more will be awarded weekly to participants regardless of the number of classes they complete and there will also be other weekly awards for the best tagged social media posts.
"Everyone wins just by participating," says Lagree YYC owner Kimberly Rothenberg. "You have the opportunity to transform yourself, but to do so, you have to show up. The 15/30 challenge helps those making New Year's resolutions stay on track and have some fun."
"We take our fun very seriously at Lagree!"
Register online for the Lagree YYC 15/30 Day Challenge online or register in-studio.
Every Lagree class, including our special new sessions for newbies, brings participants one step closer to success with a fitness plan that works 24/7/365.