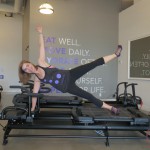 There's nothing Zen about the heart-pumping Lagree workout, but if you seek a calm and relaxed atmosphere, then Shannon Taylor is your ideal instructor. While helping clients to push beyond their comfort zone, she is easygoing, nurturing and patient. Must be her yoga background!
"I like to keep it fun and encourage others to try new things without being too hard on themselves," says Shannon.
"At the same time, I love a good challenge like Scrambled Eggs [read Scrambled Legs!]"
"It's full-body and complicated, engaging your core, obliques and arms and testing your balance," adds Shannon, a former semi-professional snowboarder who turned to yoga following an injury. In addition to teaching Lagree, Shannon is an accomplished yoga and barre instructor.
Shannon's key Lagree advice is to "Take it slow . . . the slower the better" in order to maximize the Lagree workout.
"Often people come in nervous. It makes my day when they make it through a tough class satisfied and confident."