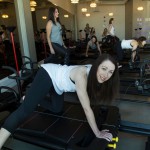 It's been an exciting journey," says Lagree YYC President Kimberly Rothenberg whose gentle yet firm guidance makes her a very popular instructor with athletes and beginners alike.
While welcoming and kind, don't be deceived . . . Kim is no pushover!
"I like people to give it their all and I want them to get their money's worth in every single workout."
That commitment is one of the things that drew Kim Rothenberg to Lagree.
"I walked into my first Lagree workout confident that I was fit," recalls Kim of the NYC fact finding mission that led to her bringing the leading-edge method to Calgary.
"I was quickly humbled."
The exercise that challenged her most – The Wheelbarrow – remains her favourite.
"When you're in it, every muscle in your body is engaged. It hits you in a way that no other workout or piece of equipment could ever do."
Kim's fitness philosophy is summed up in a single word: Balance. Though devoted to Lagree, she incorporates cycling, yoga, free weights and other equipment and methods in her personal fitness routine and encourages others to do so too.
"But if you can only do one thing, Lagree is probably your best option because it combines cardio, strength training, fat burning, endurance, balance and more into one efficient 45 minute high-intensity yet low-impact workout."
Sounds serious, but Kim Rothenberg also knows how to trigger the all-important laugh muscles.
While guiding a recent class through a gruelling manoeuvre, she proclaimed it "THE best exercise for the inner thighs. . . "
" . . . At least the best one you can do in a studio!"