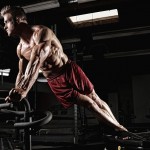 Lagree YYC is launching a men's only workout: an intense, full-body experience that combines cardio, strength and endurance in one efficient 45 minute fitness session.
"While men already get a great full-body workout in our ongoing co-ed classes, Macho Men @Lagree YYC is dedicated to providing a pumped-up, hard core, total body experience for the guys," says Lagree YYC owner Kimberly Rothenberg.
"We are aiming to help male clients increase their strength and endurance, build muscle and increase overall tone and definition in the places that matter most . . . at least the ones we can tackle in an exercise studio!"
Macho Men @ Lagree YYC classes will be held every Thursday at 7:30pm, beginning September 24, 2015. The sessions are led by Jessica Olstad, a veteran fitness instructor who designs and delivers challenging workouts for men.
Like other classes using the Lagree method, Macho Men @ Lagree is designed to bring slow-twitch muscles to the point of fatigue on the patented Megaformer. The exercises take into account the specific fitness needs of men, providing an efficient and effective workout that engages all muscle groups. While intense, the moves are easy on the joints and therefore also appropriate for men recovering from sports injuries or surgery – once they've received clearance from their physicians.
Launched in February 2015, Lagree YYC is the first to introduce Calgarians to a low impact, high intensity workout that makes exercise more efficient and effective because of the innovative Megaformer, a moving platform manipulated through a system of springs, straps and pulleys that uses body weight to provide resistance.