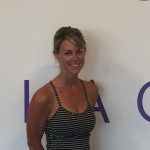 After close to two months of dating a Megaformer, I am getting into the Lagree groove. My initial opposition to getting off the couch and reversing a decades-long sedentary lifestyle have melted away. I approach each class with more enthusiasm and less dread.
Part of the appeal is upbeat instructors like Morgan whose bubbly personality and great stories ensure that one or two minutes of planking or lunging don't feel like a hellish eternity. One warning though: When Morgan says you're going to love the next exercise, it is generally code for OH! MY! GOD!
Some days are better than others for me and it is encouraging to know that the same applies to uber fit Lagree YYC clients . . . people like triathlete Tracie Lane.
That's the great thing about Lagree.   Atop its Megaformers is an eclectic collection of individuals you wouldn't ordinarily encounter in the same place. Really, where would I ever encounter a triathlete unless I accidentally landed on a sports channel during summer Olympics coverage?
"I dabbled in lots of different kinds of fitness classes and never found one that works me over so well," says Tracie, who noticed the studio while driving by, later hearing rave reviews from friends whom, she says, regularly attempt to punish her.
She trains in Kelowna eight weeks every spring and summer, preparing for local triathlons.
Each year Tracie sets fitness goals and this year she has made it her mission to develop more core stability that will help her to stay the course as she aims for stronger, higher and faster.
"I was about to hire a personal trainer, but then I found Lagree, says Tracie.
While she was initially surprised at the cost of Lagree classes ("Who in their right mind pays that kind of money for a workout?") she sold her husband on the fact that the classes would cost much less than engaging a trainer.
Call it a ridiculous flight of fancy, but I think Tracie Lane and I are a lot alike. Okay . . . I am old enough to be her mother and I am twice her size, but we both know how to justify spending to our spouses and we both don't like gyms.
You heard that right. . . Tracie doesn't like gyms.
She does resistance training on her own. A devoted, long-time yoga instructor who teaches in corporate settings, she finds that yoga aids her flexibility while keeping her head in the game.
Tracie is that rare individual who can be fiercely competitive and laid back all at the same time. She is beautiful too. And you can't even hate her because she seems so nice.
Tracie finds that two sessions a week at Lagree perfectly complement her training toward triathlons.
"It doesn't make you feel bulky," says Tracie, noting that the Lagree method "elongates your muscles."
"It makes me vibrate," she adds.
I feel relieved that the shaky feeling I get during and sometimes even long after a Lagree session is experienced by a real athlete.
Tracie is looking forward to another season as a competitive triathlete after a stellar start in 2011 when she came in 6th in her age category (then 30 – 34) in a world-qualifying race in Kelowna. She competes in Sprint Triathlon, which is half the length of an Olympic triathlon.
I ask her whether her husband is athletic.
"Yes," says Tracie, "but he thinks I'm crazy."
Nonetheless, he supports her in her passion, often joining her for at least two of her three components during her daily training in Kelowna which (typically beginning at 5:45am) includes 1,600 metres of open-water swimming immediately followed by a 5 to 10K shoes-on sprint and a 30 to 40K bike ride.
[Tracie tells me that while training, she eats 3,000 calories a day. For a moment there, I consider becoming a triathlete but resolve instead to take a nap and let the feeling pass . . . just hearing about the rest of her routine has exhausted me.]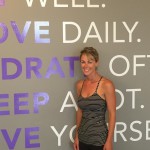 Even more incredible is the fact that Tracie powers herself through all this despite scoliosis, a pinched disk and osteoarthritis.
"If I stop doing things it just gets worse," says Tracie. "Sometimes I get tired and lazy and don't work out, but it never serves me well."
She adds that for a long time she didn't know how her day would be until she got her feet on the floor in the morning.
She swears that since she's added Lagree to her regimen she's been feeling "sweet".
"I so believe in it! It's the best low-impact workout by far. Slow and controlled movement is such a good way to work muscles in a kind way. We shouldn't beat ourselves up . . . we do enough of that already."
Tracie will be competing in her first triathlon on July 26th in Peachland followed by a world-qualifying meet in Kelowna on August 16th.
Good luck, Tracie, and see you at Lagree in September!
Maxine Fischbein is a Calgary-based freelance writer and editor.