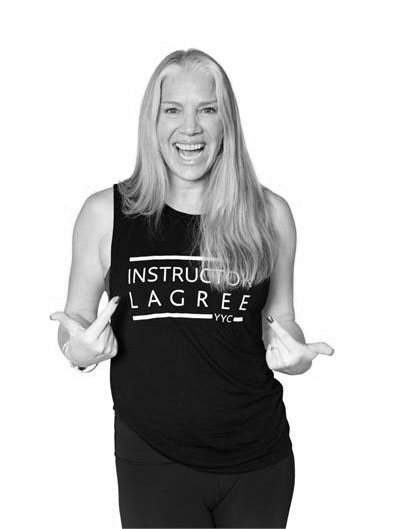 Name: Natasha "Tash" Marshall Bean
Hometown: Moved around a lot. Hudson QC, Canmore AB, LaHave NS, Calgary. Future hometown – Phoenix 🙂
In my class, you can expect: a musically influenced, upbeat fitness experience that will leave you wanting to learn and do more with Lagree.
What sort of music can people expect in your class? I love everything from pop to big beats!
If I was an ice cream flavour, I'd be: A score blizzard with extra score and chocolate sauce. 
Breakfast, lunch or dinner?: Breakfast, especially a classic cottage style – eggs, crispy bacon, toast and a side of pancakes! 
Bird, Cat, Dog, Goldfish, Hamster or Pot Belly Pig?  Dogs and cats. If I could, I would have 20 of them!! 
When I'm not instructing Lagree: I'm training indoor cycling instructors throughout Canada or hanging at home with my 5 animals. 
Guilty Pleasure: Purdy's milk chocolate everything. 
3 Things to know about me:
i) I like a SUV likely because I am up high and can see everything. Can you say – control freak! 
ii) I love doing laundry. I know it sounds crazy, but nothing jacks me more than seeing the dirty go in and the clean come out! 
iii) I traveled the world (a few times) in my early 20's with just a backpack, meeting many of my still today best friends. 
Book a Class With Tash Bean