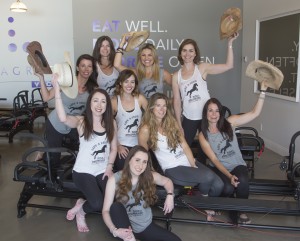 Yahoo!!!
I'm spotting random hay bales all over town which can only mean one thing . . . Stampede is just around the corner, and Calgarians will have to use all means at their disposal to maximize their endurance!
I don't just mean chuckwagon drivers and barrel racers. I mean ordinary, everyday citizens who attempt the craziest endurance stunts – like elbowing and hip-checking their way through parade crowds to get their kids or grandkids a reasonable view . . . or keeping up with them on the Stampede grounds during Family Day.
Everyone can better withstand the rigors of Stampede if they have a strong core.
And nothing strengthens your core like Lagree!
This comes in handy for everything from steer wrestling and bareback riding to holding your own on a mechanical bull. It equally applies to staying centred and upright on a barstool while indulging in a little Stampede revelry.
Lagree YYC is already in the holiday spirit with their cheeky Stampede slogan emblazoned on windows and ladies' exercise tops alike: SAVE A STUD: RIDE A MEGAFORMER
My Long-Suffering Husband simply rolled his eyes as he caught a glimpse of my stampede-inspired top when I headed off to Lagree YYC earlier today.
I am thinking he may be a little jealous of the sweaty, intimate relationship I have developed with my Megaformer over the past two months.
I love my two or three dates a week with my Megaformer. I can say "my" because I have claimed the same one for almost every Lagree class since I walked through the door.   In short, we are now going steady. A word of caution to my Lagree YYC classmates: Do not put yourself in the unfortunate position of coming between my Megaformer and me!
Our spot is just far enough from the window that my contortions will not distract or alarm motorists on Elbow Drive causing a pileup at 50th Street.
I love my Megaformer, though I have to admit that I could barely walk for two days after my last class with Vanessa during which most of the workout took place on the back of the Megaformer, significantly increasing the resistance and difficulty of the workout.
It's working! The other day I went shopping in my own closet and found that I am fitting back into quite a few clothes that were too tight two months ago when I began my Lagree journey. This is all despite the fact that right around the corner Village Ice Cream currently has both Oaxacan Chili Chocolate AND Salted Caramel ice cream on the menu. Combined they are even better than me and my Megaformer.
Of course the real challenge is the upcoming season of Stampede breakfasts.
I got to thinking of that as we were engaged yesterday in my most dreaded of all Lagree exercises.
Shannon T told us to grab the cable at the front of our Megaformers, get down on all fours, put the foot strap over a foot and perform the stunt known as "Scrambled Eggs".
My "OH NO!" bounced around the room like spit on a skillet.
While keeping up the tension on the cable, we had to extend rapidly fatiguing legs straight out to the side and pull straight back, repeating to a slow count of four. The focus required so as not to die in the middle of that routine temporarily distracted me from the real question:
Why is this unique and highly effective form of torture referred to as "Scrambled Eggs?"
'Tis the season of the Stampede Breakfast. A devoted Calgarian who has already dusted off her cowboy hat and shined up her bolo tie, I generally like my scrambled eggs served up in a parking lot on a paper plate next to a couple of flapjacks swimming in a syrup-like substance.
Therefore, as a proactive measure, I am ramping up my visits to Lagree YYC ahead of all those Stampede breakfasts and learning how to love the Lagree version of scrambled eggs which is, in truth, more accurately referred to as Scrambled Legs!
Whether you are saddling up a bronc or a Megaformer, happy Stampede to all! Stay safe and see you at Lagree YYC!
Maxine Fischbein is a Calgary-based freelance writer and editor.
Photograph courtesy of Jodi-O Photography